Art Contest Results
Posted on: Jun, 20, 2018
Art Contest Winners
The results are in! The 13 qualifying entries for our 2018 Scenes from Campus Student Art Contest gave the contest committee, and the campus, a tough time choosing the winner.
The Art Contest committee chose 1st, 2nd, and 3rd place, and then the campus community voted on the Campus Choice award, which gave the potential for overlap between the committee choices and the campus choice.
The Art Contest Committee consisted of: Nathan Barnes (Art Faculty,) Jamie Jones (English Faculty,) Will Hardy (Student Government,) Cameron Johns (Student Government,) Ivy Bowers (Welcome Center,) Matt Edwards (Institutional Research,) and Aaron Tuttle (Student Life.)
280 students, faculty, and staff voted for the Campus Choice award.
Thank you to all of our entrants, to the campus community for voting, and to Sarah Alvarez for the original idea.
The Winners Are:
3rd Place: Lakeside Afternoon – Brooklynn Graham, colored pencil on paper.
On days when the sun shines in Aberdeen, (yes, it's been known to happen), the campus seems to be a whole new place. Those are the days I wanted to represented with this piece. On those bright afternoons, turtles can be found sunning themselves at Lake Swano. Walking around the lake helps me forget about the stress of school and seeing turtles always brightens my day.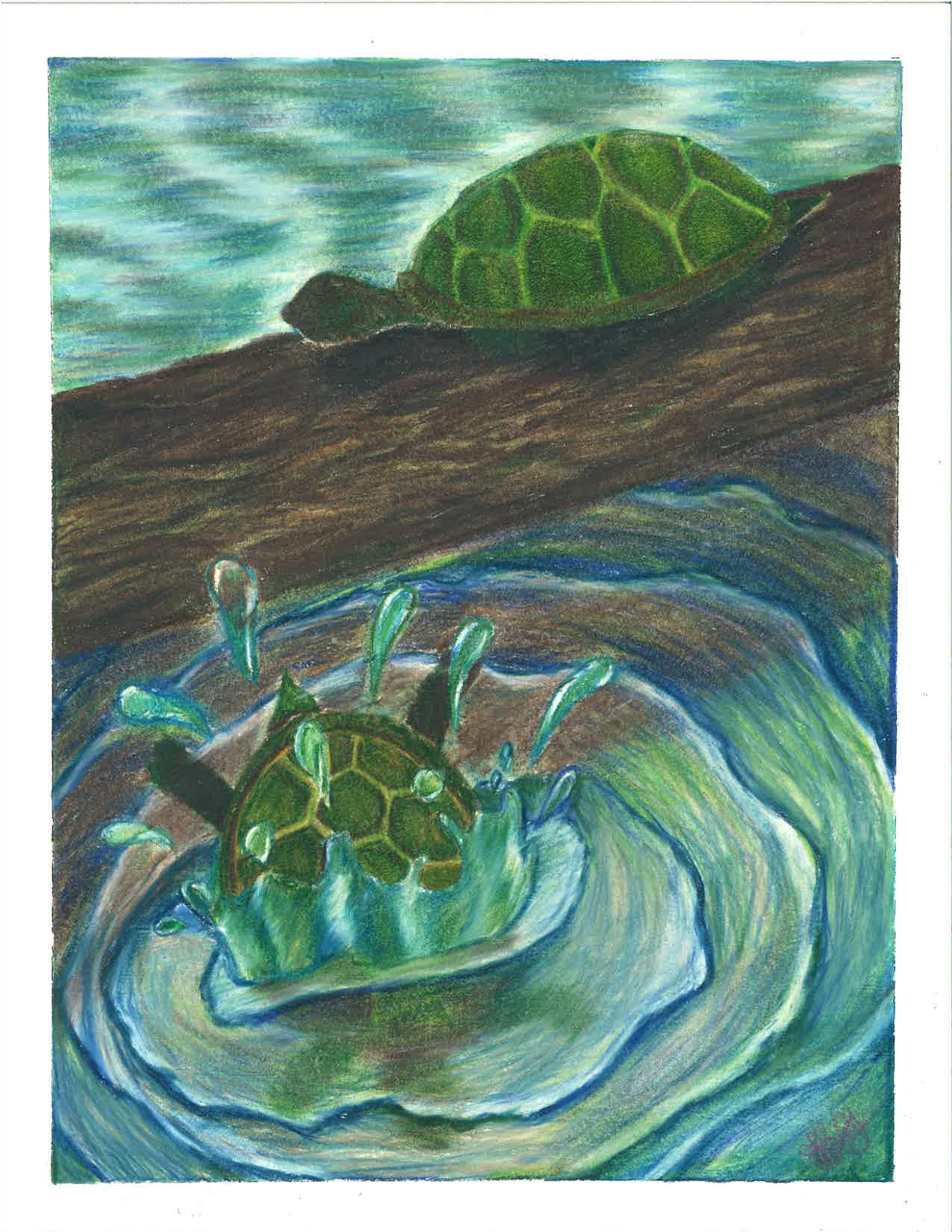 2nd Place: Studentship – Dylan Weber, collage of photos with sharpie, colored pencil, & pen
While attending Grays Harbor College, you may feel like you are on a tall well-built ship high above the Chehalis River Basin surrounded by heart melting flowers while on an extraordinary educational odyssey.
I chose to create a mixed media collage of pictures that I took with my camera during the spring quarter of Grays Harbor College. The images I arranged represent Grays Harbor College being colorful, architecturally beautiful, healthy, and radiant. The colorful selections also represent the welcomed diversity and common "studentship" that I feel while at GHC.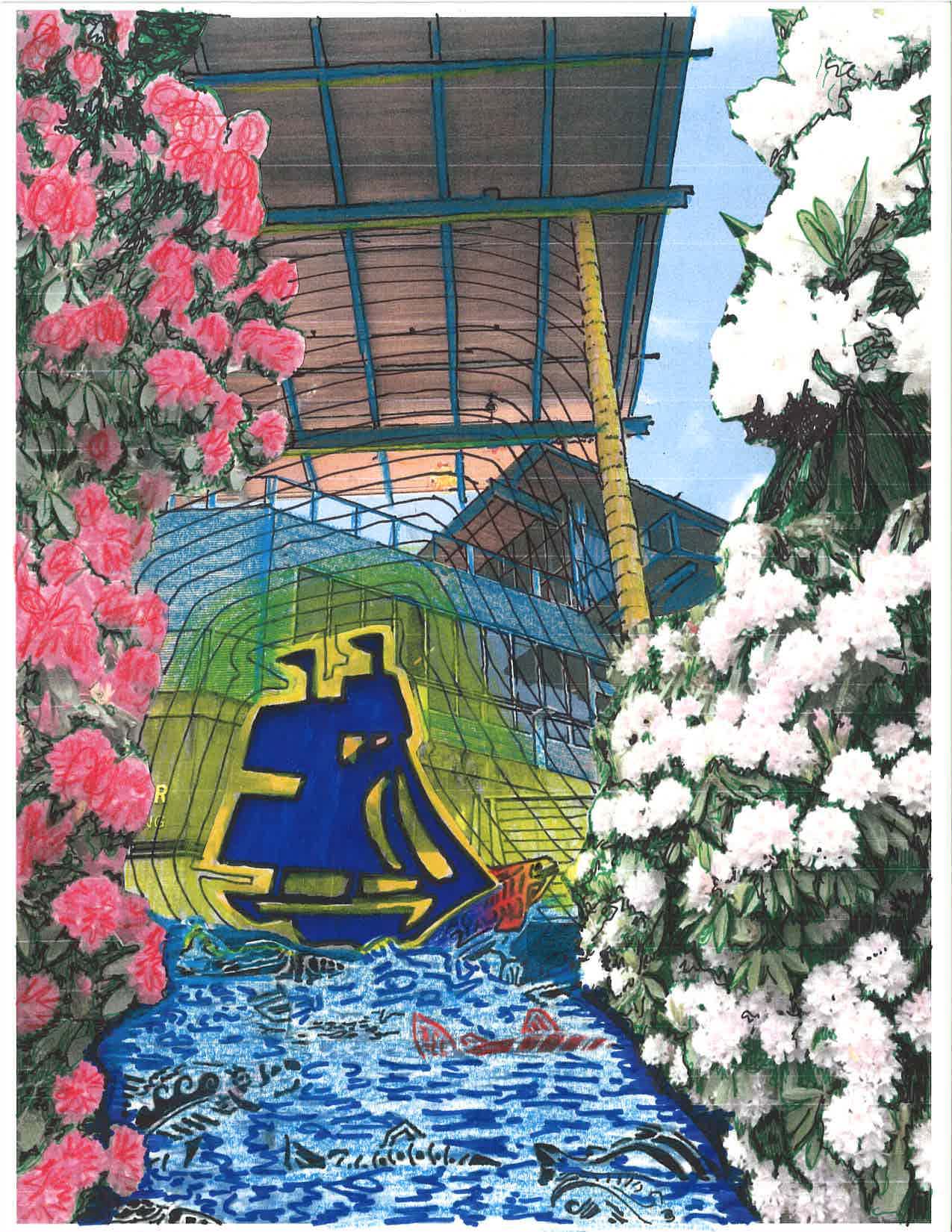 1st Place & Campus Choice Winner: Going to Class – Bailee Lee, acrylic on paper
The 4000 building is known around campus for it's beautiful architecture and I wanted to capture that. I also wanted to capture the feeling of walking to class, surrounded by nature and other students. I think GHC has a lot of beauty and I hope that comes across in my work.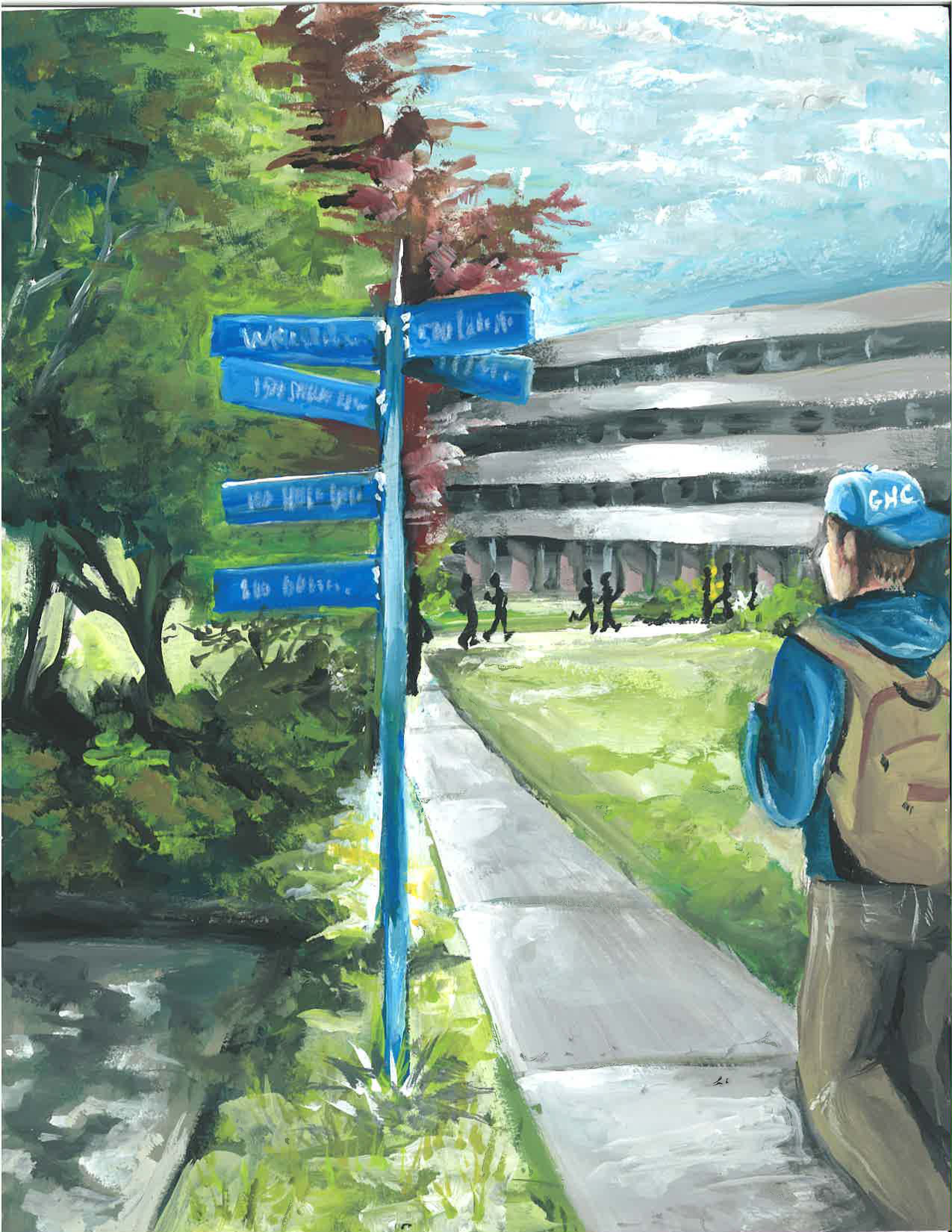 Thank you again to everyone who entered and who voted.