Abby Ives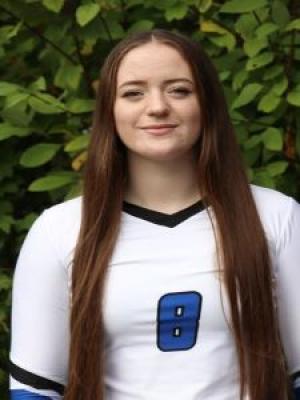 Passionate and hardworking freshman Volleyball player Abby Ives is known to be as dedicated to her academics as she is on the court. Abby has been on the Athletic Academic Honor roll and has been playing volleyball since she was in 7th grade. Abby came to Grays Harbor College from Boise, Idaho.
"Freshman year of high school was when I got serious about volleyball. I played for my HS and then club volleyball and I just knew that I wanted volleyball to continue being a big part of my life. Additionally, it was always a part of my plan to go to college. When I was offered a volleyball scholarship and I liked the people, town, and location of the college, I knew it was where I wanted to be," says Abby.
Abby grew up in Idaho and has a big family with eight siblings.
"I love growing up with a big diverse family. Five of my siblings were internationally adopted from Africa and China. I have learned a lot about the world from my family. I am so grateful for my family, the diversity of it and the experiences I have had growing up," describes Abby.
Abby plans to transfer to a 4-year institution to pursue her bachelor's. She wants her bachelor's to be something in the medical field because she enjoys science, the human body, and helping people. In addition, she hopes to continue having volleyball a big part of her life whether it is playing or coaching. Abby is driven to keep working hard on her goals is because she enjoys having a purpose and direction in life.
"I don't like to be stagnant. I am very goal oriented. If I do not have passion then I feel no purpose. My faith is also a big part of why I am so driven," explains Abby.
Abby's advice to fellow students is, "put in the work. Sometimes you feel like you cannot but you never know until you put in the effort and try. Do not be afraid to fail. Be afraid to not even try."
Abby was nominated by Head Women's Volleyball Coach and Assistant Athletic Director, Christine Nelson.