Brooklynn Graham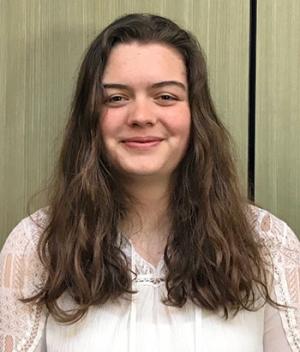 Sophomore Brooklynn Graham came to Grays Harbor College from Spokane to play volleyball. Brooklynn is a pre-med student who is extremely involved on campus. In addition to playing volleyball at GHC, she is a work study in the Student Support Center, the Lectures and Awareness Coordinator on the Grays Harbor Activities Board, a part of Phi Theta Kappa Honor Society and a member of Impact club on campus.
"It was never a question for me to go to college. I have been playing volleyball since before high school and an opportunity presented itself for me to play in college at GHC my senior year," explains Brooklynn. "School has always been very important to me. I enjoy learning and I am very self-driven to succeed and do well in school."
As a pre-med student, Brooklynn hopes to go to Seattle Pacific University for her bachelors and then medical school at Washington State University-Spokane. She is hoping to become a general physician. Brooklynn decided to go into the medical field after experience with biomedical classes offered at her high school.
"I really enjoyed the classes, and I learned I was good at the material. Additionally, I enjoy helping people. I may want to be a part of Doctors without Borders someday. I like the idea of being where I am needed," describes Brooklynn.
Brooklynn is inspired to continue working hard toward her goals by her family.
"My mom is a huge support system for me," says Brooklynn.
Brooklynn's advice to fellow students is "Go to classes and don't procrastinate. Don't be afraid to talk to instructors because they really are here to help you succeed."
Brooklynn was nominated by Jim Sorensen, Veteran and Testing Coordinator.