Dani Fieldstad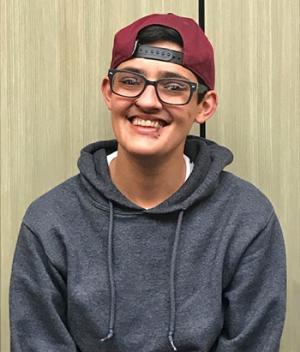 Exuberant and determined student Dani Fieldstad has always been passionate about helping people and making it a part of their career. They are an aspiring occupational therapist and spent seven years as a certified nursing assistant (CNA).
"I became a CNA because I enjoy helping people and there are a lot of people that aren't receiving the proper care out there. I believe I have the ability and heart necessary for this to be a good field for me," explains Dani. "An occupational therapist has similar responsibilities to a can, but with occupational therapy you are able to go more in-depth with your care."
Dani started at Grays Harbor College in Spring 2017 and is working on their Associates of Arts, with the goal of ultimately earning a master's degree in occupational therapy.
"I wanted to go to college because I want to better myself and my future family by having a career that can support us," says Dani.

Dani is extremely involved on campus. Last year they were the Vice President of the Gender & Sexuality Alliance (GSA) club on campus and this year they are the President.
When asked what inspires them to keep working hard toward their goals, Dani says, "Seeing where I am now and seeing where I am going inspires me. I came from a dark and challenging past, and the fact I am a first-generation student and I am here makes me stand a little taller."
Dani's advice to students is to "Get involved with the college because when you meet the right people, you form a GHC family. The GHC family will have your back and wants nothing more than to see you succeed. It gives you a really good support system to achieve your goals."
Dani was nominated by fellow student, B Bonifer.