Kaden Coty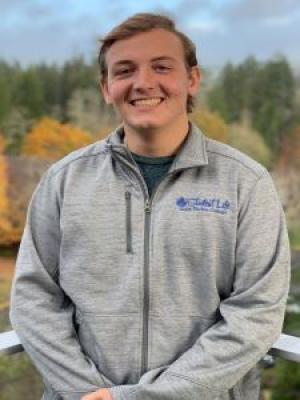 A PTK Coca-Cola Academic Team scholar, Kaden Coty is a Running Start student from Raymond, Washington, and the Vice President of the Associated Students of Grays Harbor College's Executive Board. Additionally, during his first year at GHC, Kaden was selected as a Senator for ASGHC. He is also very active at his high school and within his community.
"Having the opportunity to earn my Associate of Arts degree while still in high school felt like such an amazing chance to get ahead in life at a reduced cost. Grays Harbor College and Running Start brought me here, and I have loved learning at this amazing institution ever since," explains Kaden.
Kaden is not only extremely involved on GHC's campus, but also at his high school. Throughout high school, he has been involved with the following clubs (holding various officer positions as noted in parentheses): Peer Helpers Club, Equality Club, Students Against Destructive Decisions (Secretary), R-League Spirit Club (Treasurer), National Honor Society (Vice-President), Alternative Spring Break (Secretary and Vice-President), Spanish National Honor Society (President - 2 years), Sophomore Class President, Junior Class Secretary, and Senior Class Treasurer. As a junior, Kaden was a delegate to Evergreen Boys State representing our local American Legion. He is also a 3-year Washington Math Team State qualifier for his high school. Athletically, Kaden has participated in varsity golf for two years, baseball for one year, varsity soccer for one year, and varsity cross country for four years. His cross country team voted him Team Captain his senior year.
Kaden also has very ambitious goals for his future after graduating from high school and GHC.
"After I graduate from GHC I will be attending the University of Washington in the fall of 2019 to major in biochemistry. I then plan to move on to medical school to become a pediatric surgeon," says Kaden.
"My drive to continue working towards my goals come from my community, family, friends, and future career goals. I work my hardest to make sure I learn as much as I possibly can so that one day I do become a surgeon," describes Kaden.
Kaden's advice to fellow students is "Remind yourself of the good days you have and remember the reasons that brought you to the college initially. You can quickly become exhausted from all the learning that takes place at GHC and other colleges, but focus on how happy you will be when your hard work comes to fruition."
Kaden was nominated by fellow student, Brooklynn Graham.