Lesly Duran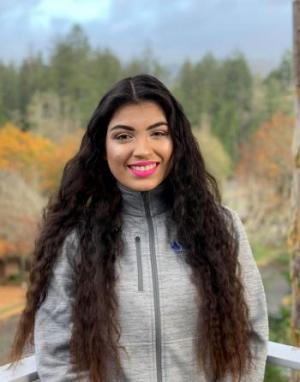 An energetic and determined student, Lesly Duran will be graduating with her Associate's Degree in Arts and Associate's Degree in Business this Spring. Lesly grew up in Washington but spent three years of high school in Mexico. She is fluent in Spanish, knows sign language, and is a presence on campus working as a work-study employee in Admissions and Records and is a part of Student Life.
"I always wanted to keep furthering my education after high school. I believe college was an opportunity to continue exploring myself and furthering my career options. I decided to come to GHC because I appreciate the smaller class sizes. The teachers genuinely are here to help you. Additionally, I love the outdoors and wanted the lower cost education before transferring to a 4-year college," explains Lesly. "I plan on transferring to a 4- year next year and getting a degree in business administration with a minor in Spanish."
Lesly's favorite experience here at GHC was getting the call that she was selected as the ASGHC Executive Officer of Government Relations.
"I love being the voice of students. I see as such a privilege and responsibility and it is something I have really wanted to be a part of. It is an amazing leadership opportunity," describes Lesly.
In addition to working in Student Life, Lesly is a work-study employee, is a part of the business club, and works at Safeway.
When asked what inspires Lesly to continue working on her goals she says, "My perseverance and determination to fulfill everything I set for myself. I create a dream board; I continually set goals for myself to keep goals. I rely heavily on my faith in God. I believe in continually pushing myself more. If I do not have goals, then I ask myself what I am working towards.
Lesly's advice for fellow students is, "keep going with your education and do not limit yourself. Keep expanding your goals and mind. And make sure to stay determined to achieve your goals and bettering yourself."
Lesly was nominated by fellow student, Kaden Coty.