Lucy Garity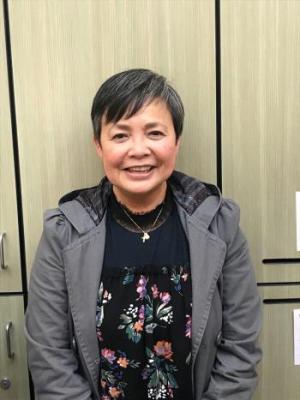 Medical Assistant student Lucy Garity is known for her dedication and profound energy inside and outside of the classroom. Lucy is back at GHC after receiving a degree in Secretarial Science back in the 80s and maintaining a 25-year-long career in the banking industry. Lucy is originally from the Philippines but came to Grays Harbor in 1982.
"Originally I came back to school after taking time away from my banking career to help care for my grandchild. Then I decided [a] medical career would be more rewarding for me. Both fields are all about customer service, but I have always had a desire to go into the medical field and this felt like my opportunity," explains Lucy.

Lucy first worked as a Certified Nursing Assistant and felt the work was very hard but gratifying. She then decided to go back to school for nursing, but tearing her rotator cuff limited her physical abilities for nursing. Soon after, the Medical Assistant Program started at the college and Lucy saw it as the perfect opportunity.
"I see it as a chance to really help people. I found [it] extremely gratifying. I can see that I can make a difference in people's lives. I truly care," says Lucy.
When asked what makes Lucy continue to work hard to achieve her goals, she says, "The fact I am at this age (55), I want to work as much as I can till I cannot anymore. I have 10 plus years I can help people. I challenge myself and I expect a lot from myself. I want to graduate with honors."
Lucy's advice to fellow students is, "Work hard and stay focused. If you really want something you need to go for it and put the necessary effort in."
Lucy was nominated by fellow Medical Assistant Student and former Choker Who Rocks Jane Phernetton.