Stephanie Gibson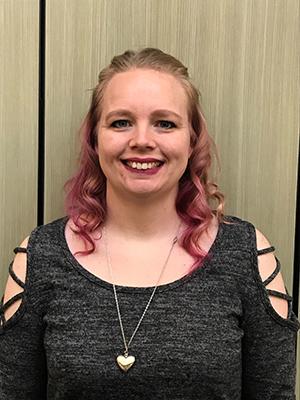 Energetic and determined, Stephanie Gibson is a mom to three kids, a student and a Cashier Customer Service Specialist at Grays Harbor College. She started at GHC right out of high school, back in 2003, to pursue a degree in nursing. After being placed on the waiting list for two years, Stephanie was busy raising her family and did not end up completing her associates degree. Starting last spring, Stephanie has gone back to school to finish the six classes she had left to complete her degree. She will be graduating this Spring with her Associates of Arts.
"I always dreamed of being a nurse. I love to help people, but a nursing career just isn't what I want now. However, I still have the strong desire to help people. I went back to school to progress further in a career," explains Stephanie.
After completing her AA, Stephanie is considering going on to pursue her bachelor's degree at Central Washington University. She is looking at the Information Technology and Administrative Management degree with the desire to stay at GHC for her career.
"I like it here. It is very comfortable and has a positive environment," Stephanie describes. "I enjoy the friendly atmosphere, and my co-workers have been a big encouragement and support for me going back to school."
Stephanie has been married for 12 years and has three children. She is inspired to keep working on her goals because of her family, and she wants to be an example for her kids.
"Besides my family, I have the strong will to achieve the goals I have set for myself," says Stephanie.
Stephanie's advice for other students is, "Take a credit load that you can handle. If you have to juggle work, kids, and school, then do not overload yourself on credits. Do what you can to be successful, not what others expect of you. Remember to always take the time to study."
Stephanie was nominated by Associate Director of Financial Aid Sara Konu, and Financial Aid Program Coordinator Lindsey Phernetton.