Stephanie Thornton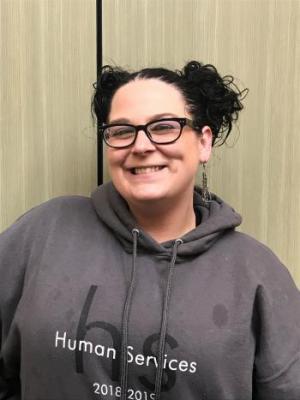 Compassionate and selfless, Stephanie Thornton is a first year Human Services student that moved to Grays Harbor from Georgia to start a better life for her family. She is impressive because of her ability to manage three jobs (two are on campus), is an active member of Phi Theta Kappa Honor Society, Secretary of the Gender and Sexuality Alliance, Assistant Director of the Board for Human Services, mom to two kids, and maintains a successful GPA above 3.8. Stephanie hopes to stay at GHC and graduate with not only her AA in Human Services but also get her Bachelors of Applied Science in Organizational Management.
"My family and I moved here from Georgia because we realized life wasn't what you wanted for your family. Life there was going to end in disaster and we had to get away. I wanted to go to college because I wanted to get more than just a minimum wage job, and I want to be a success. I want to have my kids see me doing it and holding down three jobs," explains Stephanie.
Stephanie is an extremely active member on campus from her involvement in the TRiO and BFET programs to her involvement in clubs, and her overall desire to help fellow students.
"I believe I have a higher calling to contribute and to help people. I feel like that is what gives our life meaning, the more people we are able to touch," describes Stephanie.
After GHC, Stephanie hopes to work with children that have autism spectrum disorder and sensory processing disorder. This cause hits close to home for Stephanie because her daughter is autistic.
"It is a new field of understanding that everyone falls somewhere on the spectrum. We need professionals who can take supporting individuals with ASD and SPD head on. Each individual and case is unique and I want to be a part of developing more support," says Stephanie.
When asked about what inspires her to keep working towards her goals, Stephanie says her family.
"For the first time my parents told me they were proud of me. It felt amazing," she explains.
Stephanie's advice to students is "know when to buckle down and know when to take a break. Self-care is very important!"
Stephanie was nominated by students, B. Bonifer and Dani Fieldstad.