Terry Thompson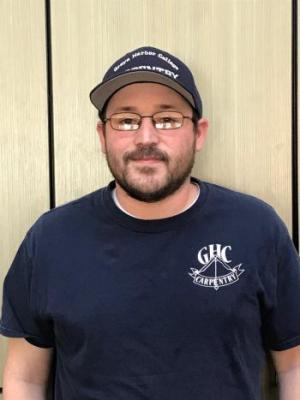 Hard-working and dedicated Carpentry student Terry Thompson juggles his time between studying, being the part-time weekend custodian here at GHC, and parenting four children under the age of 12. Terry spent the summer on the Canoe House at the YMCA's Camp Bishop. Terry also built about two dozen wooden toys for the children of students and employees for the winter holidays.
"I came to GHC because I wanted to get a better job to be able to support my family and further my education to be able to have a career. I initially started in the Forestry program, but once I learned that carpentry was offered, I switched. I enjoy working with my hands and I hope someday to build my own house," Terry explains.
Terry describes that his most challenging part of coming back to school is that he has been out of high school for 12 years. He had to relearn how to be a student, study, and figure out how to balance school, work, and home life.
"In high school I wasn't the best student, but I've always been a good worker at whatever job I had at the time. Once I saw school as a job, I really started succeeding here," says Terry.
When asked what drives Terry to continue pursuing his goals, he says, "Being able to provide for my children a lifestyle that isn't a struggle. I want to set a good example for them. I want them to know that, if they are determined, they can be whoever they want to be."
Terry's advice to other students trying to achieve their academic goals here at GHC is, "Dedicate yourself to the course material. Study when you can, and do research on your own. Homework sometimes takes more than one try to get it right."
Terry was nominated by Carpentry faculty, Adam Pratt.