Opera Workshop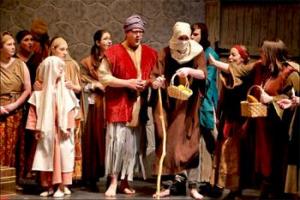 The Opera Workshop is Grays Harbor College's only select classical music ensemble, featuring some of the strongest singers and actors from the college and community.
GHC's Opera Workshop is an educational opera program, bringing live opera performance and classical vocal music to the Bishop Center stage. Established in 2016, the workshop is open by audition to both GHC students and singers from the community, high school age and older.
Opera Workshop is about exploring the rich tradition of opera and operetta in a warm and supportive environment, and is uniquely positioned to provide young singers with performance opportunities that are essential for preparing for transfer to a 4-year music program. College students who are regular members of Opera Workshop may choose to take it for credit: MUSIC240 (1 cr) satisfies specified elective requirement for the AA degree.
Opera Workshop is co-directed by Ian and Joy Dorsch and accompanied by Kira Theine. Weekly rehearsals are Wednesday evenings at 6:30 pm.