Biological Sciences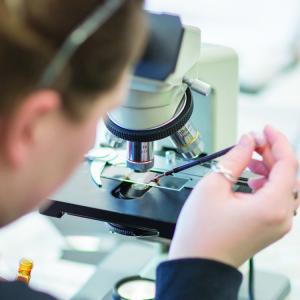 Biology is the study of life – from the chemical reactions of cellular activity to the interactions of all the organisms in an ecosystem. A foundation in biology can prepare a student for a wide variety of careers, including those in health care, biological research, biological industry and technology, teaching, and natural resource management. Areas of employment include academic institutions, government agencies, private business and industry.
Here at Grays Harbor College, an Associate in Science - Transfer Degree is designed to cover the first 2 years of most 4-year biology related majors and fields. Students completing the AS-T track can transfer to a four year school, ready and prepared to specialize in their areas of interest at the junior level. Many students will also use the biology department to prepare themselves for a variety of other specialized programs, such as and Associates in Nursing, Physical Therapy Assistant, Radiologic Science, and Respiratory Therapy. Because the options in life sciences is so varied, we recommend you make an appointment with an advisor to discuss your goals.
Research Opportunities
In addition to our general curriculum, the biology department offers a variety of extracurricular activities designed to give students hands on experience with science. Whether you are interested in trying out a particular field, or looking to build your resume for a future career or graduate school, there is something out there for you. Opportunities in the past have included a cadaver dissection team, raising coho salmon in the college hatchery through GHC Fish Lab, the GHC Fish Lab Summer Research Program, and a variety of volunteer internships through our faculty and partners. For more information, speak with your faculty advisor.
Career Information
Biology is a broad field, encompassing a wide array of career paths. Below is a list of a few of the career fields that may begin with an AS-T degree in Biology:
Career Examples
Biochemist
Biomedical engineer
Biotechnologist
Laboratory technician
Ecologist
Epidemiologist
Food scientist
Forensic scientist
Geneticist
Microbiologist
Molecular biologist
Physician
Physical therapist
Pharmaceutical researcher
Researcher
Teacher
Toxicologist
Veterinarian
Transfer Schools