Music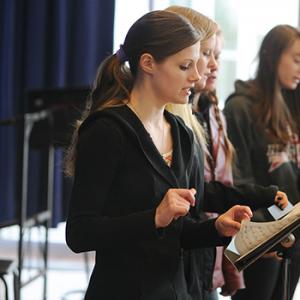 Whether you are seeking a music degree at a 4-year school, or plan to major in a non-musical subject and still continue your music training, our ensembles and superb faculty are committed to helping you reach your individual music goals.
The Grays Harbor College Music Department offers a variety of courses and opportunities ranging from regular classes and individual instruction to recitals and performing groups. Students, community members, and faculty perform regularly in GHC's Bishop Center for the Performing Arts.
Career Information
"GHC has the perfect balance of personal and professional. The courses at GHC are challenging and engaging because the teachers have such a passion for their subjects. The music and English classes are amazing and help you spur on your creativity. I especially loved being involved in the fall musicals and Jazz Choir because they created such a sense of community. Not only did I build relationships with students, but also with teachers and community members. Attending GHC was a great experience. The solid academic foundation it gave me made transferring a breeze."
Sarah Redding, GHC Graduate 2013
Current student at Oklahoma Christian University, majoring in journalism and minoring in music.