Medical Assistant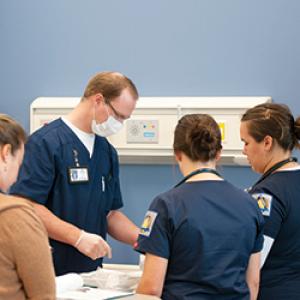 Medical Assistants are highly versatile professionals in both clinical and administrative realms. The program will provide students with a knowledge base that includes anatomy, physiology, medical terminology, pharmacology, medical billing and coding, medical office clinical assessments and procedures, patient care and education. Medical assistants will learn to effectively communicate with a wide variety of people including doctors, nurses, clients, medical billing staff, insurance representatives, and pharmacists.
The Medical Assistant Associate Degree program is designed to prepare competent entry-level medical assistants in the cognitive (knowledge), psychomotor (skills), and affective (behavior) learning domains. This program requires a separate application process.
Program Outcomes
Upon completion of this program, successful students will have demonstrated the ability to apply their skills and knowledge in the following ways:
Effectively use oral and written communication skills as they relate to a medical office environment.
Use computer software to research and organize data for medical information systems.
Demonstrate the ability to perform front office tasks such as appointment scheduling, telephone work and documentation of charges and payments.
Demonstrate the ability to accurately perform clinical skills appropriate for a medical office setting.
Demonstrate the ability to interact professionally with patients and staff in a healthcare setting.
Critically evaluate medical office situations from multiple perspectives to find appropriate solutions.
The program will culminate the theory, clinical and lab skills in a practicum experience in a physician's office.
Upon graduation, the student may be eligible to take the Certified Medical Assistant (CMA) examination given by the American Association of Medical Assistants, the Registered Medical Assistant (RMA) examination given by the American Medical Technologists, the National Certified Medical Assistant (NCMA) examination given by the National Center for Competency Testing (NCCT), and the Certified Clinical Medical Assistant (CCMA) examination given by the National Healthcareer Association. Refer to the Certification, State Board, and National Board Exams section for important program disclosure information.
What Courses Will I Take?
"The last two years at GHC have shaped countless years of my future, giving me the confidence to succeed anywhere. Moving out of state, going to a large university, and making the transition to independence were all very scary steps for me. The perfect stepping stone to success, GHC creates the foundation of an academic plan stretching far beyond its campus. Instructors quickly become mentors, always willing to give advice and guidance. College is a time of challenge and self-discovery; at GHC, this journey is safe, supportive, and close to home. GHC is just as real as any university—but unlike a large school, you'll never feel lost."
This program is designed for licensure/certification in the State of Washington. Grays Harbor College cannot guarantee the transferability of licensure, certificate, or credential to another state.