Veteran Resources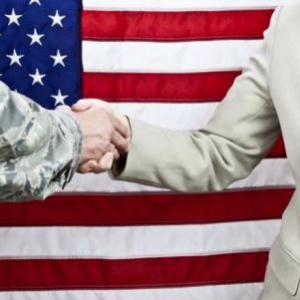 Thousands of military personnel leave the service each year and select Washington state as their home, bringing with them a wealth of experience and a wide range of skills. Grays Harbor College is honored to have veterans as part of our community.
Washington's two-year colleges are a perfect fit for returning veterans who are transitioning to civilian life and private-sector jobs. Here, at GHC, we offer small class sizes, flexible hours, veterans services, and real-world education and training so veterans can hit the ground running. We offer credit for prior learning, which may be based on transfer credit, test results, portfolios or training certificates. For additional information, please read Getting Veterans Back to Work.
Tuition Waivers
Veterans and dependents of 100% service connected disabled or deceased veterans may qualify for tuition waivers. Contact the Veterans Office at 360-538-4174 for additional information.
Overcoming Challenges
Each veteran brings unique experiences and needs to campus, but some patterns that are common to many have been identified. These are normal challenges for veteran and active-military students. There are steps you can take to help yourself as well as a variety of resources to help you.
On-Campus Resources
GI Bill®/VA Funding,360-538-4174 or veterans@ghc.edu.
Student Support Center
The Student Support Center offers advising and counseling to students with academic, career or personal concerns. Counselors are available by appointment.
The Learning Center
The Learning Center is here to support your academic success. Its services include drop-in tutoring, a professional writing tutor, individual tutoring sessions, computerized learning resources and a quarterly Student Success Conference.
Local Off-Campus Resources
WA Department of Veterans Affairs, Olympia Service Center
1-800-562-2308 / benefits@dva.wa.gov
Assists veterans with claims processing and referrals. Provides services to veterans including a Basic Health plan, Veterans Conservation Corps, Homeless Veterans Services, and Estate management services.
WorkSource Grays Harbor
John Geelan @ Worksource:
511 W. Heron St.
Aberdeen, WA 98520
360-538-2369 / 1-800-783-0657 / jgeelan@esd.wa.gov
Services include Employment Services for Veterans and VA Benefits services.
Phone: 360-533-9318
Telephone Numbers Specific to Military Veterans
| | |
| --- | --- |
| Suicide/Crisis Line for Veterans | 1-800-273-8255 |
| Health Eligibility Center / CHAMPVA | 1-800-733-8387 |
| Income Verification and Means Testing | 1-800-929-8387 |
| Military One Source: Services for active military members | 1-800-342-9647 |
| National Center for Post-traumatic Stress Disorder | 1-844-698-2311 |
| Military Retired and Annuity Pay Contact Center | 1-800-321-1080 |
| Veterans Group Life Insurance | 1-800-419-1473 |
| Gulf War/Agent Orange/Radiation Exposure Helpline | 1-800-749-8387 |