Mascot Charlie Choker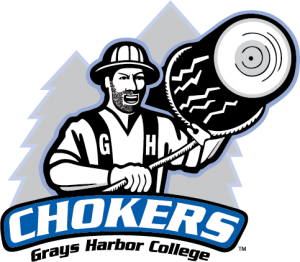 A choker setter or choke setter is a logger who attaches cables to logs for retrieval by skidders or skylines. An important and iconic position in the logging community of Grays Harbor.
The GHC mascot, in use since the early 1950's, has in recent years become a common entry in "Top 10" lists for weirdest or most unusual mascots in the country. In 2009, Time magazine placed it at #8 in it's top 10 worst team names. In 2012, Chester Cheetah, the iconic spokescat for Frito-Lay, announced that Charlie Choker was at #9 in his official rankings of the Top 25 Cheesiest College Mascots. Drawing from an admittedly unscientific analysis of college mascots nationwide, rankings are based on "cheese factor" and all-around silliness.
So who is this brawny, tough man of great strength, walking from the woods with a massive log on his shoulder? While the traditional, chubby-cheeked Charlie, crew-cut and bare-chested, will forever be near and dear to our hearts, in 2015, it was time to give him an updated look. Current students needed to understand what a choker-setter in the woods really does, how courageous a job that has always been.
Working with graphic designer Amy Ostwald, a clearer story of Charlie Choker took shape. He now wears a hard hat for safety, along with the work shirt and heavy gloves of today's logger. The tall trees in the background indicate his workspace. His connection to the College remains steadfast, with the Chokers and Grays Harbor College logos below him.
So welcome Charlie Choker '15. Watch for him on the fields and courts, supporting our athletic teams. We have not forgotten or cast aside traditional Charlie, just giving him a well-deserved retirement while the younger generation takes over.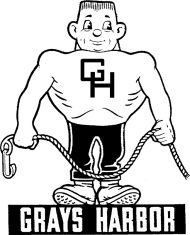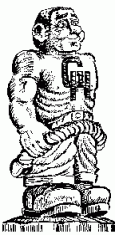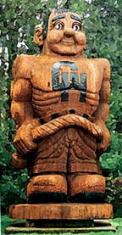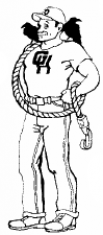 Over the years, Charlie Choker, our beloved Grays Harbor College mascot, has had several incarnations. The original Charlie Choker was created decades ago. This year, we are rolling out an updated Charlie. One of the goals in creating Charlie Jr. was to show a little more about what a Choker setter is – albeit with a dose of extra grit and strength to reflect our GHC athletic prowess! Charlie Choker, Sr. will never really go away. Once a Choker, always a Choker!
The GHC statue, which welcomes students and guests to the campus, was carved by Louis Benanto, Jr. in 1975. He began with a 15-foot by 8-foot cedar log and used a chain saw to create Charlie.