Food Options on Campus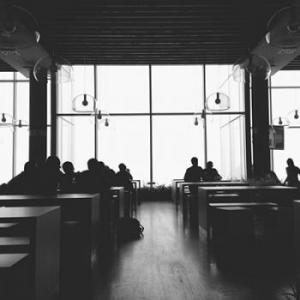 There are numerous options to grab something to eat and drink while on campus at Grays Harbor College. These options include anything from a quick snack to a full meal and dessert.
Charlie's Cafe
Located in the HUB on main campus, Charlie's Cafe has a wide selection of food choices ranging from hamburgers and fries to a soup and salad bar. Charlie's is open Monday through Friday from 7:00 am to 2:30 pm (the grill closes at 2:00 pm). Hours can sometimes vary based on when classes are in session.
Bookstore
The Grays Harbor College Bookstore has many different varieties of snacks, candy, drinks, and even has some options for meals on the go. The Bookstore is located in the 100 building on the main campus in Aberdeen.
Hungry, But Have No Money?
Healthy snacks are available free of charge in several locations on the campuses at GHC. Stop by today and ask about the Food for Thought cupboard and help yourself to some instant oatmeal, a granola bar, apple, or other healthy snack. Locations on main campus include the Student Life Office (HUB), the TRiO Office (Library), and the Transitions Department (2nd floor of 2000 building). Food for Thought snacks are also available at the front desks of our Riverview (Raymond) and Columbia (Ilwaco) campuses.
Beginning April 17, 2018, Student Government will be opening the Harbor Landing Food Pantry. The pantry, located in the 500 building (gym), will be open Tuesdays, from 10:00am–2:00pm through the end of the quarter. The entrance will be the double doors by the bus stop. Food for Thought will continue to operate during spring 2018. For more information, contact Liz Allton or Aaron Tuttle.
Coffee Stand
There is a coffee stand located in the Fireside Room of the 100 building on the main campus in Aberdeen. Various options for coffee and other drinks are available, so stop in to fuel up for those early morning classes.
Vending Machines
There are vending machines placed in various locations throughout campus. The majority of locations include both snack options as well as beverage options. Methods of payment vary, but most machines accept cash, coin, and credit cards.