Campus Life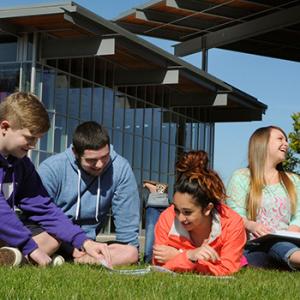 Campus Life at Grays Harbor College is both a fun and a inclusive, supportive atmosphere. Get involved with Student Life, participate in Athletics or simply attend an athletics event to support the college and root on your fellow students, attend an event at the Bishop Center, and seek out support from the Veteran's resource center or Diversity and Equity Center.
Successful students are involved in their education both in and out of the classroom. Research has shown that involved students have a better chance of reaching their academic and personal goals. At Grays Harbor College, there are a variety of ways that students can be involved. Supported by the Services and Activities (S&A) fee collected from every student's tuition, The Student Life Office provides events, trips, lectures, intramural, concerts, clubs, multicultural programs, leadership opportunities and more.
The Bishop Center is the place to go for your entertainment needs. Shows at the Bishop Center include choir concerts, symphony concerts, musicals, concert performances. Each year, the Bishop Center has great performances that you can attend throughout the entire year. Tickets for Grays Harbor College students are free and ticket prices for the general public are reasonable.
Grays Harbor College offers sports such as basketball, baseball, softball, golf, volleyball, soccer, and wrestling. Attending an athletic event is a great way to become more involved with GHC and a great way to make new friends.
The mission of the Diversity & Equity Center of Grays Harbor College is to educate and advocate for awareness, understanding, and acceptance of fair treatment for all people, ideas, and cultures.
GHC Photo Identification Cards
Students, faculty, and staff at Grays Harbor College will be provided with a photo ID card. This card will serve as the official GHC identification. Students will need a GHC photo ID to access college resources such as the library, computer labs, and college sponsored events.