Pre-College and Basic Skills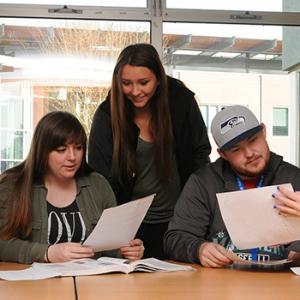 Students come to college with various levels of knowledge and skills in reading, writing, and math and different previous educational experiences. Pre-college classes help you be successful in the coursework required to meet your academic goals.
Need to Finish High School?
If you need to finish high school, you will need to complete an orientation that is designed to match your current skills and needs with courses that will challenge you while supporting your success. To learn more about High School Completion Options, call 360-538-4167.
Already Finished High School?
If you have finished high school, you will need to take the GHC Placement Test to help determine your appropriate starting point on the GHC English and math pathways. For more information, contact the Student Support Center at 360-538-4099.
Pre-college classes are offered online and assessment services are available at the Aberdeen campus along with the Riverview Educational Center in Raymond and the Columbia Educational Center in Ilwaco.