Financial Aid Night / Noche de Ayuda Financiera
Event Date:
Tuesday, March 9, 2021

4:00 pm

to

7:00 pm
Attend a virtual Financial Aid Night to get one-on-one help filing your FAFSA (Free Application for Federal Student Aid) or WASFA (Washington Application for State Financial Aid). All events hosted via Zoom. The workshop is free and open to all. Assistance will be available for Spanish speakers.
Register at: http://bit.ly/ghcfinaidhelpmarch9
Before the event, begin gathering the following documents to complete your Financial Aid application the night of the event.
All Attendees Will Need:
• Your driver's license or state ID.
• Your income information: Bank statements, a W-2 or pay stub, and past tax return.
• Your parent, if you are under 24 years of age: All students 24 years of age and older are considered independent from their parents. The FAFSA/WASFA will help you determine if you are considered dependent or independent if you are younger than 24. Only dependents need to file parent information.
• Your parents' financial information. Parents should bring a copy of their previous year's tax return.
• Any additional financial information such as child support statements, TANF or welfare information; real estate, investments, family business or farm information.
FAFSA Filers Must Also Bring:
• Your Social Security Card/Number or green card.
• One parents' social security number, if they have one
Not sure if you should complete the FAFSA or the WASFA? Take this short survey to find out: https://readysetgrad.wa.gov/WASFAelig.
Register for future Financial Aid Nights with Grays Harbor College:
Financial Aid Nights
4:00-7:00pm
April 20th, 2021 – http://bit.ly/ghcfinaidhelpapril20
May 11th, 2021 – http://bit.ly/ghcfinaidhelpmay11
June 8th, 2021 - http://bit.ly/ghcfinaidhelpjune8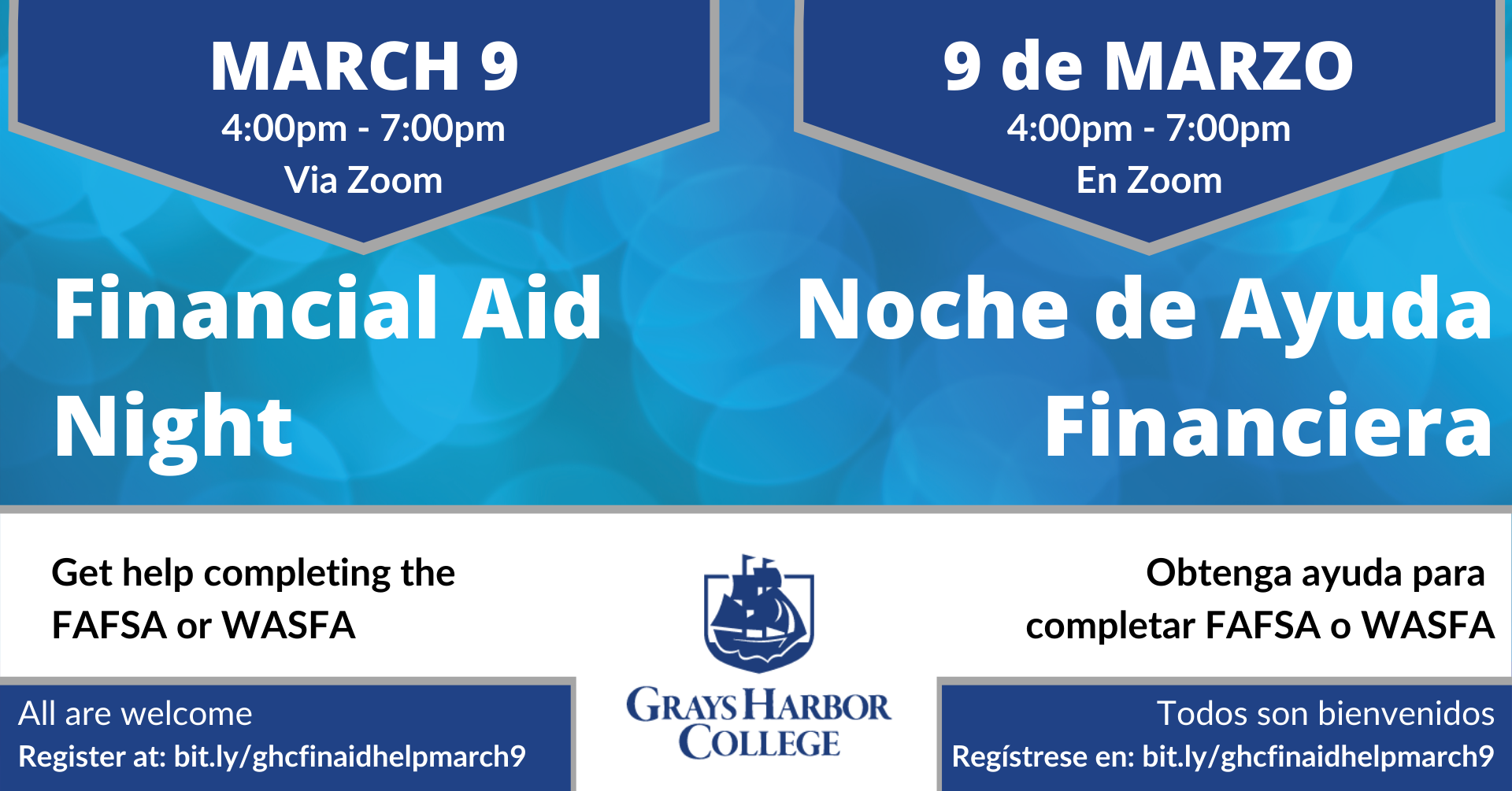 Grays Harbor College is committed to providing access and reasonable accommodation in its services, programs, and activities for individuals with disabilities. To request accommodations, contact AccessAbility Services by phone at 360-538-4099 or by email at accessibility@ghc.edu. Timeliness of the request directly affects the provision of service.