Information Literacy Puzzle
ACCESS ▪ EVALUATE ▪ APPLY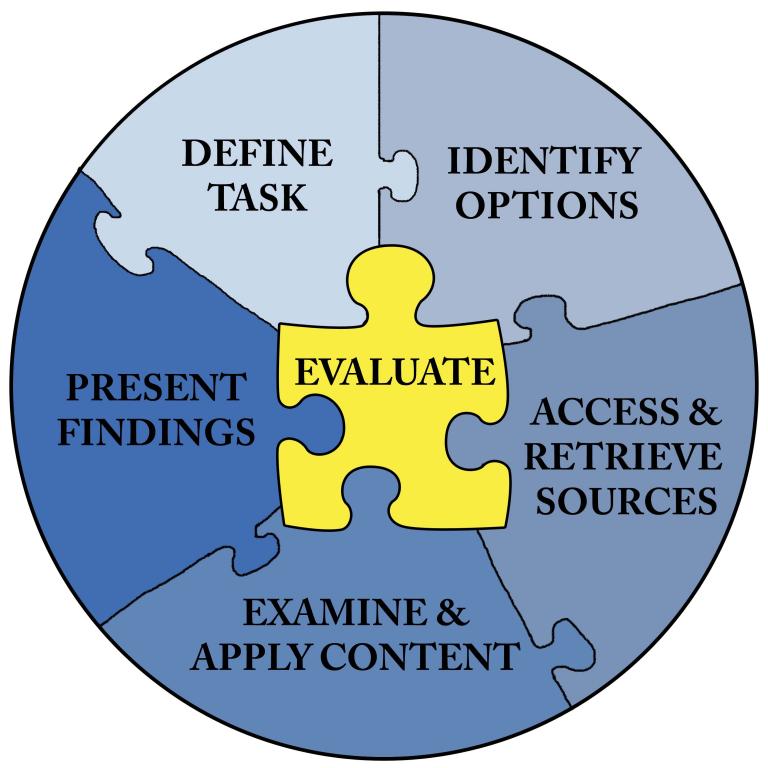 What is information literacy?
Information Literacy is the ability to access, evaluate, and apply information from a variety of sources and in a variety of contexts.
The process typically begins with Define Task and moves around the circle. Evaluate is present in each step.
Learn more about each concept:
Why is Information Literacy Important?
Every day, we are faced with a multitude of choices in our academic, work, and personal lives as well as vast amounts of information that can easily overwhelm us and impede our decision-making abilities. Information Literacy equips us with the skills to recognize when we need information and to access, evaluate, and apply the best information for our purposes, thereby enabling us to sort through mountains of information and make informed decisions effectively and efficiently.
For more information, contact Adrienne Roush (aroush@ghc.edu) or 360-538-4053.
Development of the concepts expressed in this site were influenced by ACRL Information Literacy Competency Standards for Higher Education; Mike Eisenberg's and Bob Berkowitz's "The Big 6"; and Information Literacy work done by Seattle Central College, Tacoma Community College, and Spokane Falls Community College.


Information Literacy at Grays Harbor College by the John Spellman Library is licensed under a Creative Commons Attribution-NonCommercial-ShareAlike 3.0 Unported License. Based on a work at Seattle Central Community College Library. Permissions beyond the scope of this license may be available. For more information, contact the John Spellman Library.