Grays Harbor College Welcomes Students with first New Student Orientation since 2019
Posted on: Sep, 16, 2022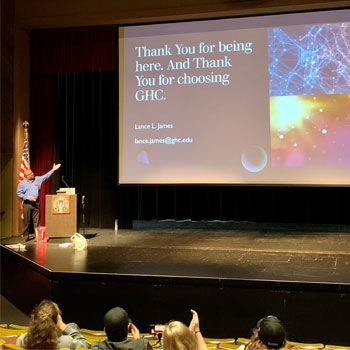 Building the Future—that was the theme as Grays Harbor College faculty, staff, and students prepared for fall quarter to begin on Monday, September 19. Leading up to the first day of classes, GHC provided numerous opportunities for staff, faculty, and students to connect and prepare, which culminated with a new student orientation on Thursday at the Bishop Center for Performing Arts.
The new student orientation marked the first in-person orientation since fall 2019, and a continuation of GHC's return to an in-person environment. This year, 53% of course offerings will be offered in-person. The college will continue to offer online courses, as well as hybrid and 'HyFlex' courses, which allow students to attend class fully online, in-person, or a combination of both.
GHC president Dr. Ed Brewster greeted the crowd at new student orientation and encouraged the new students to access the resources available on campus. "We have about 200 employees at GHC and all of us are here for you, to provide the best environment we can for you to be successful."
Aberdeen Mayor and GHC alumnus Pete Schave also addressed the crowd of students, reminiscing fondly about his days in student government and sharing words of advice. "Get involved in and get everything you can out of your time at GHC," said Schave. "Everything you do here at GHC will benefit you for the rest of your life."
Felicia Mullins, Director of Campus Life, Diversity, and Leadership at GHC, congratulated the students on making the decision to attend college. "You are starting college! That's amazing! You made a decision, a big decision, to get out of your comfort zone and take charge of your life," Mullins said before breaking into a celebratory rap.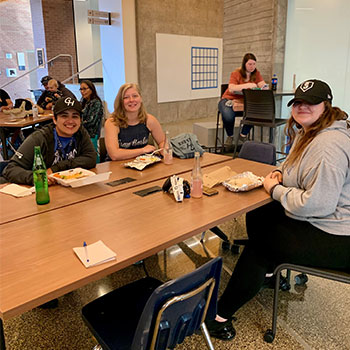 Following the introductory remarks at the Bishop Center, the orientation featured activities throughout campus, including live music by local artist The JazzEMan, campus tours, a lesson on local history from Phil Slep, and a storytelling workshop led by Harvest Moon. The Mr. Taco food truck came to campus to provide lunch. GHC plans to continue hosting food trucks on campus throughout the year. "The food trucks will be back!" shared Mullins. "We will post weekly updates on social media and our website about food options on campus."
The event wrapped up back at the Bishop Center with an alumni panel featuring Jax Bonifer, Shelly Hoffman, and Jessica Molina. Both Hoffman and Bonifer graduated from GHC's Bachelor of Applied Science in Organizational Management program and currently work at GHC, Hoffman as a Student Support Specialist with TRIO and Bonifer as a Cashier in GHC's Business Office.
"My journey here was not at all what I expected," reflected Bonifer. "I was able to meet a lot of people who helped me discover who I am as a person, and it was the best learning experience I could have asked for. When I graduated a year ago, I didn't feel like my journey at GHC was complete, so I applied for a job here and now I get to be a part of your journeys here too," said Bonifer to the crowd of new students.
Hoffman held the role of Student Body President during her last two years at GHC and encouraged the new students to get involved in campus life. "Do not be afraid to ask questions, put yourself out there, and take risks," said Hoffman. "You will get triple what you put in."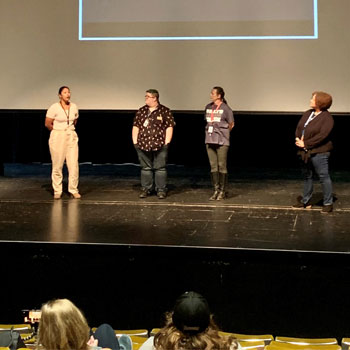 Molina, who moved to the Grays Harbor from Yakima County, shared her perspective as a first-generation college student. "College is really about finding your voice. I was able to do that here at Grays Harbor College. I found a lot of supportive staff that really helped me." Molina shared that through her experiences at GHC, she became an advocate. Molina currently works for the Grays Harbor County Health Department and is a member of RISE Red de Inclusion Solidaridad y Empoderamiento, which she described as "one of the most sustaining coalitions for the BIPOC community here on the Harbor."
Lance James, a member of the business faculty at Stafford Creek Corrections Center provided the day's closing remarks, reiterating Mullins' congratulatory message to the new students on their decision to attend college. "I know that you are the future leaders of this nation. How do I know that? Because I have three examples right in front of me," said James, while pointing to the alumni panel of Bonifer, Hoffman, and Molina.