Michael Lick - GHC Student, Business Management
Embracing the Art of Letting Go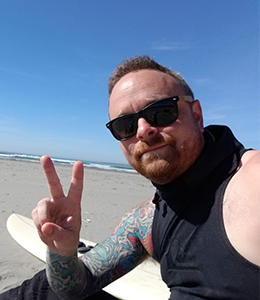 "Surfing is not a sport," said Michael Lick, a Business Management student at GHC and the owner of Swellone Surf Company, a surf-inspired apparel brand with a new storefront in Grayland. "Surfing is the art of letting go."
By embracing the art of letting go, Michael has been able to grow both personally and professionally. He sees his education as a way to continue this growth. "I have as saying in my company, it's most of my mission statement: Surfing made me a better person, so I make better surf wear," he said. "I like to give back to the things that made me grow. This is a way I can use my talents to give back to the community. That's why I went to school for this, to better my company for my customers."
During his time as a student at GHC, Michael and his business achieved many milestones. He opened his store in Grayland and celebrated the ribbon cutting with one of his favorite instructors and members of the Chamber of Commerce. As a class project, he organized a beach cleanup with classmates, where he had the opportunity to connect with the Surfrider Foundation. On top of that, he is proud to have achieved a 3.9 GPA. "Every single thing at this school has all worked together for my success," he said.
Similar to surfing, Michael said that his experience at GHC has, "completely changed me as a human being." More specifically, he credits the Global Business class taught by Melanie Israel for the shift in his worldview and business strategy. When Michael started Swellone, he wanted to produce and sell American-made surf wear. He saved up money and launched an online company, scaling up and eventually opening his shop in Grayland. "I had this idea that all global trade was a hinderance. So, I trademarked my brand, logo, and name just in the U.S. and didn't ship outside the U.S.; Global trade wasn't even an option." In Global Business, Michael said he learned about subsidies and tariffs, and how, "powerful companies can take advantage of less powerful companies under the guise of fair trade, but there are still fair companies." This set him on a new path. He soon applied for a global trade voucher that will allow him to export Swellone products internationally.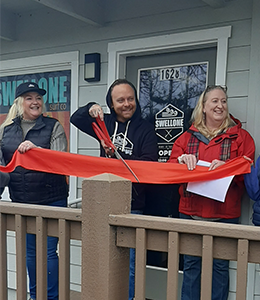 In Global Business, Michael learned about Impact Washington, a non-profit organization that supports Washington manufacturers. He applied for and received a grant through Impact Washington to cover the cost of expert consulting in all areas of his business. "This program is going to help me learn business techniques that I could not have comprehended, understood, or applied without my GHC training, and that I would not have been able to receive any other place without having to pay exorbitant consultant fees," he explained. "We are focusing on e-commerce now, and in the next cycle, we will focus on project management and digital marketing. We've mapped out three years of training so far. I foresee this program being a tool in my toolbelt for a long time."
When reflecting on his time at GHC, Michael said that he, "targeted every single assignment to my specific goals, which allowed me to have a degree that 100% fits my needs." His advice to future students would be to take a similar approach. "Write a mission statement for your career and life goal. Secondly, write a business plan for your career and life goal. Lastly, use what you have written as a roadmap for your path at GHC." Michael said he also sees the importance of being open to changes to the roadmap along the way. "I've updated my mission statement three times in four years, as my horizons expand."
Michael will graduate with an associate degree in Business Management in June. Another event on his always-expanding horizon is the inaugural Swellone Skimboard Classic, a skimboarding competition that his company is hosting on July 22 in Grayland. For this event, he teamed up with local businesses and regional partners including DB Skimboards, the Surfrider Foundation, and various local businesses. The event began as a work study project, and he looks forward to continuing it as an annual competition.
Michael said he sees surfing as a way to connect with something greater than himself, to feel the power of the ocean, and to let go of his ego. In a similar way, Michael's classes and experiences at GHC gave him the chance to let go of his preconceived notions about his industry and his business. "It's too hard to pinpoint one specific memory, but overall I have to say the best memory for me is how much of my perceptions were changed by my experience at GHC."
Michael's future goals include continuing to grow his business and his education. "It's important we never stop learning. My exact goals are only known to be continuing my education in whatever that looks like."