Jillian Evans - GHC Alum, Transfer Student
Persistence and the Path to Success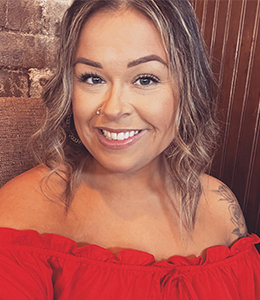 Like many students, when Jillian Evans enrolled at GHC, she was not sure what path she wanted to pursue. She considered going into behavioral health, thought about nursing, and spent one quarter in the Forestry program. Eventually, Jillian found herself on a path that would change everything.
"After all of the different paths, in the back of my mind, I always had accounting," Jillian said, as she reflected on her decision to enroll in accounting courses.
While taking accounting classes, Jillian was also looking for a part time job that would allow her to continue pursuing her education. After a couple interviews and opportunities didn't pan out, Jillian was starting to feel discouraged—until she received an email that would change everything.
During one of her accounting classes with Dr. Ushman, Jillian received a class-wide email about an internship opportunity with Michael Huff, a CPA in Aberdeen.
"When I got this email, I got really excited. Within an hour of the email, I reached out and set up an interview for the following Tuesday." Jillian then reached out to Dr. Ushman for a letter of recommendation and began preparing for the interview. "Boy did I practice for that interview! I had pages of questions and notes, and I practiced, because I wanted to be prepared," she remembered.
After her interview, Michael told Jillian that she would hear back the following week. By Thursday, Jillian was feeling nervous again and tried keeping herself busy while she waited for the call. When Michael called her that afternoon, he had one last question for her: "Do you want a job?"
Jillian was excited to accept the position. "It felt like the perfect opportunity that stepped in at the right time," she said. "I realized, I had been searching for jobs, some I didn't want. I was kind of getting bummed. But you know, after this internship jumped into my lap, I realized all of those things didn't work out so that this could."
Jillian graduated from GHC in June, 2022, with two associate degrees and plans to transfer to Washington State University's Global Campus and pursue a Bachelor's of Arts in Administration and major in Accounting.
After graduating, Jillian continued her internship in Michael's office, where she enjoyed the chance to get hands-on experience in her field.
"I am learning new things every day. Once I get those down, we move on to something else," she said. "I am answering phones and directing those where they need to go, taking messages when needed, writing down appointments for Michael. I am also doing payroll, assembling tax returns, doing trial balances, bank reconciliations, excise tax payments, and quarterly reports for current clients. I am just jumping in and trying all the things!"
When asked what advice she would give to other students, Jillian said, "Don't get discouraged. There's always a pathway. It might not be clear on day one, but it's there. Just utilize the resources here on campus—talking with instructors, advisors, that's been so important for my career."
Jillian looks back on her time at GHC with gratitude. "As a single mom, I have raised my son on my own. We've had a lot of struggles, but it's just been one good thing after another for us since I started at GHC," she said. "I'm so grateful for my experience at GHC, because this is where it all started for me. All the hurdles that I've gone through so far with switching my pathways have just opened up a new pathway for this to happen."