Graduating from Grays Harbor College
Congratulations on your Academic Achievement!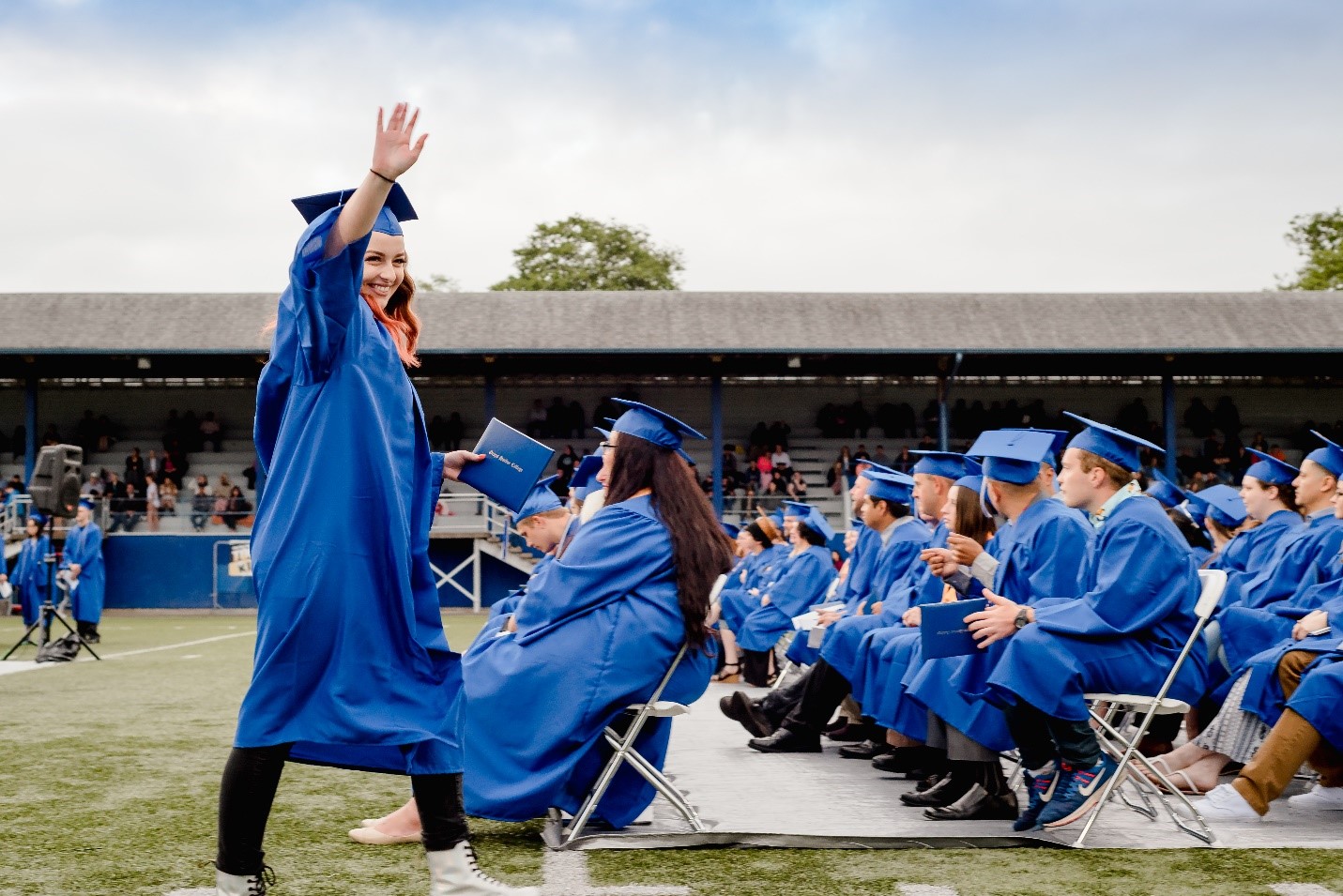 As you near the end of your degree at GHC, there are some important steps to take to be sure that you are awarded your degree.
Step 1: Apply for your Degree or Certificate
In order to receive your certificate or degree you must complete a Degree/Certificate Application. Once you have completed this application, our transcript evaluator will go through your transcripts and verify that we can award you your degree or certificate.
Please complete this at least one quarter before you plan to graduate. This ensures that GHC can confirm your degree/certificate and notify you of any outstanding credits you may need.
Completing your Degree Application does not register you to participate in the graduation ceremony, please proceed to Step 2 to register for the celebration.
Apply for Degree or Certificate
Step 2: Register for the Ceremony
The 2023 Commencement Ceremony will be on Friday, June 23 at Stewart Field in Aberdeen, Washington at 7:00p.
The deadline to register for the commencement ceremony has been extended to May 18, 2023.
Register for Commencement Ceremony
To ensure that your name is included in the official ceremony program, we ask that graduates register by May 14, 2023. An email will be sent to graduates who are on track to complete their degree or certificate this spring quarter.
What happens if I register for the ceremony after the deadline?
Students that miss the May 14 deadline can still register and participate in the ceremony, though their name may be excluded from the printed program as it has already gone to print.
If I complete my degree this summer, can I participate in the ceremony ?
Students who will complete a degree in summer quarter are eligible to participate in the spring commencement ceremony as long as 1) they have no outstanding holds on their account, and 2) have registered for summer quarter classes.
If I am only completing a certificate, can I participate in the ceremony this spring?
No. Only degree-seeking students are eligible to participate in the annual ceremony.

Commencement Ceremony Details
This year's 2023 Commencement Ceremony will take place at Stewart Field in Aberdeen on Friday, June 23 at 7:00 pm. The stadium is located at 800 Willard St., Aberdeen, Washington 98520.
Stewart Field Details
No admission fee
Gates open at 5:30 pm
Arrival Time & Graduate Drop-Off Area
The stadium gates open at 5:30pm and graduates should arrive no later than 6:15pm to ensure adequate time to check-in and line up.
The graduate check-in area will be at the north grandstands of Stewart Field. Graduates can enter the stadium from the side entrance (located on Holmes St.) or the main entrance (located off N B St)
To get to Holmes St. you will want to turn off N B St. at Cleveland St.
Holmes St. will be blocked off at the intersection of Holmes & Stewart St.
Stewart Field Parking
Public parking is located next to the stadium at Willard St, Aberdeen, WA 98520

Employees are being directed to park next to the Stewart Building at 900 Cleveland St, Aberdeen, WA 98520

There is no cost to park at the stadium
Graduate Instructions
Please arrive by 6:15 pm; doors to stadium will open at 5:30pm
No spike heels will be allowed on the field, this includes pumps, stilettos, kitten heels, and every type of metal cleat
Follow the signs to the graduate check-in where you will receive your name card, which will include your name, degree and other honors being recognized
At 6:30p we will gather all graduates to get a group photo and then line you up for the processional into the ceremony.
Graduates may line up in any order, unless it has been communicated to you in advance of the ceremony about lining up in a specific order
Please pay attention to the ushers, who will assist you getting to your seats (processional) and existing your seats post-ceremony (recessional)
Cap & Gown
To arrange a time to pick-up between June 20-21 at the Aberdeen campus, email sara.oliver@ghc.edu or call 360-538-4066. Pacific County students who need make an appointment to pick-up in Raymond, email kent.smaciarz@ghc.edu or call 360-538-4023.

Graduates who are unable to pick up their cap, gown and tassel before the ceremony will be able to pick-up their items at the graduate check-in on the day of the event.
Event Photography
We are delighted to share that we will have Moyer Media at this year's ceremony providing photography services. Students will be able to access photos a few days after the event.
Contact Us
Any questions about this year's commencement ceremony should be directed to the Office of the Vice President by contacting 360-538-4066 or vpssoffce@ghc.edu. Questions about the Application for Degree or Certificate should be directed to 360-532-9020 or enrollment@ghc.edu.
Previous Ceremonies
Here are the web links to recent ceremonies and event programs the college has hosted: