Business Technology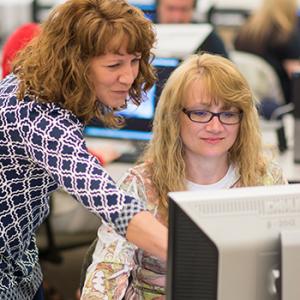 Are you ready to discover a career in business technology? GHC's business technology program provides a foundation of computer software, administrative, and communication skills.
We offer instruction in the most commonly used computer applications including Microsoft Word, Excel, and Access. You will gain proficiency in business document formatting, ten-key, records management, desktop publishing, and speed and accuracy on the keyboard. With our up-to-date curriculum, you will be able to compete for jobs using current technology.
Career Information
Administrative assistant jobs are in demand. In today's business environment, communication and computer skills are valuable assets. You may begin as a receptionist and work your way up to a higher-paying position as an administrative assistant or office coordinator. Entry-level salaries range from $19,000 to $29,000 annually. Top professionals in this field have the potential to earn $45,000 or more.
For job opportunities and salary expectations, please see: https://www.worksourcewa.com/
Career Examples
Administrative Assistant
Office Coordinator
Office Assistant
Receptionist
Former OFTC/BTECH Students Currently Employed at GHC
Jackie Blumberg (AAS OFTC 1999) is a Procurement and Supply Specialist 3. She has been employed at GHC since 1997. Jackie noted, "Great education experience at GHC. Instructors helpful, caring, supportive and knowledgeable. The education provided at GHC and work-study experience prepared me for the work force."
Berta Gibby (AAS OFTC 2001) is currently the Program Assistant for BFET/Opportunity Grant/WorkFirst Programs. She has been employed with the college since 1999. Berta noted that "In this program I learned all the skills that an office professional will need in order to be successful. I thoroughly enjoyed the program would recommend it to anyone that wants to work in an office setting."
Karen Carriker (AAS OFTC 2009) is currently the Nursing Program Assistant/ Procurement Specialist. She has been employed at Grays Harbor College since 2009. Karen noted, "The OFTC program is a fun and easy learning environment. It boosted my self-confidence and it not only taught me how to run an office but also how to give a winning interview."
Chelcie Bailey (AAS BTECH 2013) is currently the Community Education Specialist for Grays Harbor College. She has been employed with the college since 2013. Chelcie noted, "I would recommend the BETCH program to any person looking for a career in an office setting. I enjoyed the classes and the instructors are amazing. I can honestly say that I learned something new every day. The BETCH program had such a positive impact on my education I decided to continue on with the ITAM program offered at Central."