Spring Musical Audition Results
Posted on: Dec, 5, 2018
Grays Harbor College Theatre Arts/Communication Department is proud to announce the results from our Spring Musical auditions!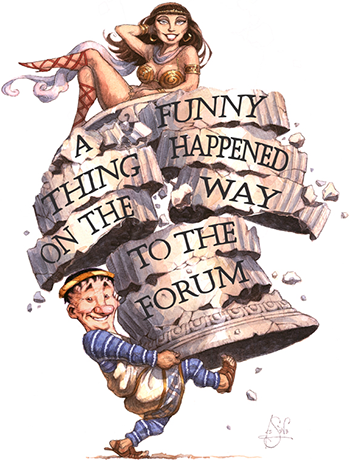 A Funny Thing Happened on the Way to the Forum
CAST LIST (in alphabetical order by last name):
Hero - Casey Bronson
Marcus Lycus - McKenna Hansen
Pseudolus - Analei Holt
Miles Gloriosus - Dan Jackson
Erronius - Tom Keuster
Philia - Rebecca Meacham
Senex - Gary Morean
Domina - Patty Sundstrom
Hysterium - Robert Thomas
COURTESANS

Eric Beard

Carlo Bernal

Carlos Cruz

Christian Gleason

Mitchell Hatfield

Jeff Rockwell


PROTEANS

Andy Blake

Natasha Brown-Williams

Kendall Cavin

Julayne Fleury

Sadie Karl

Brenda Rolfe-Maloney

Chaela Watkins
THANK YOU SO MUCH TO EVERYONE WHO AUDITIONED!
We had a terrific turnout of talented performers which made our decisions very difficult. If you were not selected, please audition again for our next production -- The 10 Minute Play Festival. Also, please consider joining our Stage Crew. Contact andrew.gaines@ghc.edu for more information.