World Class Scholars
The World Class Scholars (WCS) program is a partnership between local school districts, Grays Harbor College, and the Grays Harbor College Foundation. This partnership provides a pathway to a college education for students through Grays Harbor and Pacific Counties, beginning as early as 9th grade, and provides a scholarship to students who complete the program.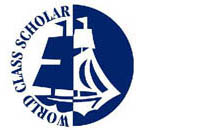 Grays Harbor College recruits and administers the WCS program, introducing local students to the concept of higher education, and a pathway to accessing higher education at Grays Harbor College. The Foundation funds the scholarship program through donations and grants and annually presents scholarship awards to student recipients who complete the program. In 1999, WCS received the Innovation in Education Award from the United States Senate and continues to be a vital program to students in the Twin Harbors region.
How Does It Work?
Students are invited to sign a contract committing to several scholastic, leadership, and community service goals to be met before their high school graduation. Grays Harbor College offers the commitment of entrance to GHC along with a scholarship award from the GHC Foundation to each World Class Scholar for their first year at GHC. The World Class Scholars Scholarship is available for 25 months after high school graduation.
Get Involved Now!
Students can sign up for the World Class Scholars program at their schools in Grays Harbor & Pacific County or using the form below.
World Class Scholars Application
The students commit to:
Graduate from high school with a cumulative grade point average of 3.0 or better
Complete High School & Beyond graduation requirements, and World Class Scholars tasks & workshops
Demonstrate a variety of interpersonal skills, including working with groups, leadership roles, and respecting others
Complete at least 40 hours of community service and provide annual documentation of participation
World Class Scholars Coordinator Contact Information
360-538-4181