Teacher Education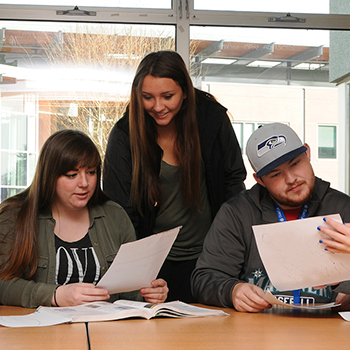 The BAS-TE program is designed to enable applicants with a two-year degree, or a one-year Early Childhood Education Certificate, to combine their lower-division coursework with upper-division credits in education, resulting in a K-8 certification. This degree is designed with academic rigor enabling graduates to apply directly to Master level programs throughout the state.
In cooperation with Centralia College, our BAS-TE program provides quality teachers for a five county area. There is no other program like this serving the Lewis, Thurston, Pacific, Mason, and Grays Harbor counties.
Program Schedule
A new cohort starts each fall!
The BAS-TE program runs during fall, winter, and spring quarters. Classes are 4:30 – 8:40pm on Tuesday, Wednesday, and Thursday evenings.
Program Prerequisites
Admission into the BAS-TE program is merit based. Meeting the minimum entrance requirements does not guarantee admission, as the number of qualified applicants may exceed the number of enrollment spaces. In order to be placed into the admissions pool, applicants must complete and submit the following:
All BAS-TE application materials
Transcripts showing evidence of an earned associate degree from a regionally accredited college or university with a minimum cumulative GPA of 2.7, or an Initial Early Childhood Certificate, employment in the education field, and completion of year two coursework with a minimum cumulative GPA of 2.7.
Prerequisites: Applicants must have a grade of 2.0 or higher in the following courses prior to program start. Pre-requisite courses include*:
A minimum of 45 credits of the degree required courses (below)
Degree Required Courses: Degree required courses are not a pre-requisite to the program; they are a requirement for earning your bachelor's degree. Some degree required courses may be prerequisites to upper division courses. Students are encouraged to complete these courses in their associate's degree if possible. Courses must be completed with a grade of at least 2.0.
WESTERN CIVILIZATION OR US HISTORY
LAB SCIENCE
*Course substitutions must be approved by the Office of Instruction.
Career Information
The BAS-TE degree is an approved teacher education program in the State of Washington. Successful completion of the program leads to a recommendation for a K-8 certificate with an Elementary Education endorsement.
Program Documents
Additional Program Information
Learning Outcomes
Students who successfully complete the Bachelor of Applied Science in Teacher Education: Elementary Education & Special Education will have demonstrated the ability to:
Communicate and collaborate effectively with children, parents/guardians, peers, administrators, and the community.
Ensure cultural competence in teaching through adapting learner centered curricula that engage students in a variety of culturally responsive strategies.
Recognize individual differences and learning styles then modify curricula to meet the learners' needs.
Design, facilitate, and evaluate age and developmental appropriate learning exercises for students in K-8 and special education.
Develop standards-driven curricula and monitor student progress towards targets.
Utilize formal and informal assessment strategies to strengthen instruction and promote learning.
Competently design and execute lessons rich in literacy, science, math, social studies and the arts.
Generate strategies from multiple instructional approaches and differentiated instruction for all students.
Foster positive, inclusive learning settings in cognitive, behavior, language, physical, and social domains to create a safe and productive learning environment.
Integrate and model the use of technology in the classroom.
Utilize feedback and reflection to constantly improve teaching practices.
Demonstrate the capacity and skills needed to work the professional environment of K-8 education.
The coursework for this program is designed to ensure graduates have a firm foundation in teaching education, including appropriate training specific to elementary education and special education, by demonstrating the achievement of the program outcomes. Course objectives are aligned with the general program outcomes stated above.